Presentations: 2021 OK NSF EPSCoR S3OK Annual State Conference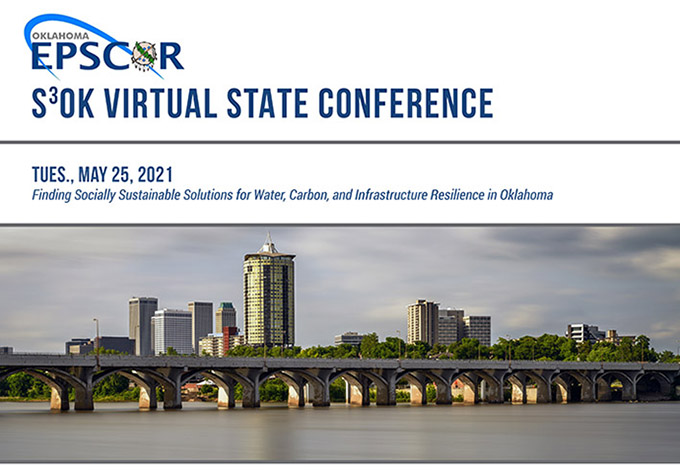 The 2021 Oklahoma NSF EPSCoR State Conference was held Tuesday, May 25, 2021, via the Zoom platform. The conference brought together a diverse group of researchers and stakeholders from across the state to highlight progress made during the first year of the RII-Award No. OIA-1946093, Socially Sustainable Solutions for Water, Carbon, and Infrastructure Resilience in Oklahoma (S3OK). Plenary sessions highlighted research progress and the team's integrated research efforts were further strengthened through panel discussions that addressed focus area interdependencies, transdisciplinary integration, and year 2 project goals. The project's vigorous outreach and education component was also spotlighted.
The S3OK project is a statewide, multi-institutional collaboration among more than 40 social, physical, biological, engineering, and computational scientists that aims to develop and test science-based solutions for multi-faceted and complex problems at the intersection of land use, water availability, and infrastructure in Oklahoma. A robust team of student researchers also supports the project; their work was recognized at the conference.
Videos and presentations from the event may be accessed below. More videos will be added as permissions are received from the presenters.
Conference Presentations
Evaluation: S3OK - Laying the Groundwork for Project Impacts
LeAnn Brosius, Research/Evaluation Assoc., Office of Educational Innovation and Evaluation, KSU
SI Student Research Spotlight: Ice Storm Tree Loss and Tree-Powerline Interaction
Richard Campos, Graduate Student, School of Civil Engineering, OU, and Amir Javid, Ph.D. Student, School of Civil and Environmental Engineering, OSU
S3OK Social Dynamics (SD) Graduate Student Research: Laying the Foundation
Maggie Leon-Corwin, Graduate Student, OSU, and Katie Peach, Graduate Student, OU

S3OK Social Dynamics (SD) Team Highlights
Dr. Hank Jenkins-Smith, OK NSF EPSCoR S3OK Co-PI; Assoc. Director, OU National Institute for Risk and Resilience, and Assoc. Prof., Dept. of Political Science, OU
S3OK Student Research Spotlight
SWOSU Students
S3OK Student Research Spotlight: Compilation Video
LU, NRI, OSU, and OU Students
S2S Student Research Spotlight: Precipitation Whiplashes Across the Southern Great Plains


Bryony Puxley, Graduate Student, School of Meteorology, OU

Subseasonal to Seasonal (S2S) Variability in Weather and Climate Extremes in the Southern Great Plains – Y1 Accomplishments and Y2 Plans
Dr. Jeffrey Basara, Assoc. Prof., School of Meteorology, School of Civil & Environmental Science, OU
Terrestrial Water and Carbon Dynamics


Dr. Rodney Will, Prof., Dept. of Natural Resource Ecology and Management, OSU

TWCD Student Research Spotlight: Satellite-based Gross Primary Production
Dr. Jorge Andres Celis, Ph.D. Student, Dept. of Ecology and Evolutionary Biology, OU
V-MQW Student Research Spotlight: Passive Treatment of CECs in Stormwater by Biofiltration at GRDA
Grant Graves, Graduate Student, Dept. of Environmental Science, OU
V-MQW - Variable and Marginal Quality Water Supplies


Dr. Mark Krqmarzick, Asst. Prof., School of Civil and Environmental Engineering, OSU

Year 1 Update: OK NSF EPSCoR Outreach and Education


Gina Miller, Outreach Coordinator, OK NSF EPSCoR
Questions about the event may be sent to Gina Miller, outreach coordinator, at gmiller@okepscor.org.
-----------
Photo credit top of page- Copyright: <a href='https://www.123rf.com/profile_mirco1'>mirco1</a>
Latest News
Wednesday, January 25, 2023
Wednesday, January 25, 2023
Wednesday, January 11, 2023
Upcoming Events
Wednesday, February 15, 2023 -

12:00pm

-

1:00pm
Friday, March 3, 2023 - 9:00am
Tuesday, March 28, 2023 -

8:00am

-

12:00pm