OK NSF EPSCoR Summer 2021 REU Award Recipients Announced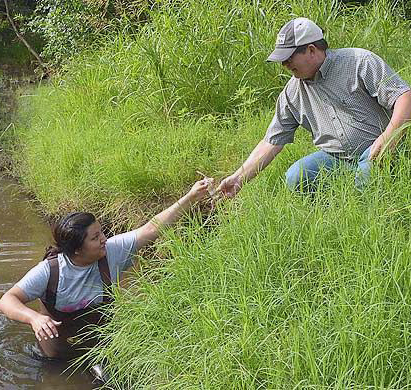 Five Oklahoma undergraduate students have been selected to participate in the Oklahoma NSF EPSCoR Summer 2021 Research Experiences for Undergraduates (REU) program. Award recipients, under the guidance of faculty mentors, will perform research at the University of Oklahoma in Norman and Oklahoma State University in Stillwater. The research will be in the OK NSF EPSCoR RII-theme areas of weather, water, carbon, infrastructure, and energy, including social dynamics elements of these topics.
The Oklahoma NSF EPSCoR REU program strengthens and encourages undergraduate students' early participation in the university and scientific communities by providing one-on-one mentorship and unparalleled research opportunities at the state's research-intensive campuses.
Summer 2021 REU Recipients:
Student Researcher
Melani D. Anguiano, University of Oklahoma
Research Project Title
An Experimental Study and Prediction of Drill String Vibration in Drilling Systems Using Machine Learning Techniques
Faculty Mentor & Lab Site
Dr. Catalin Teodoriu, University of Oklahoma
Award Amount: $4,968
Student Researcher
Jason Aquino, Oklahoma State University
Research Project Title
Electrical Power Resilience Against Ice-Storms
Faculty Mentor & Lab Site
Dr. Hamidreza Nazaripouya, Oklahoma State University
Award Amount: $5,000
Student Researcher
Emily Bedea, Southwestern Oklahoma State University
Research Project Title
Elucidating the Structure and Biochemical Properties of Carbonic Anhydrases from Photobacterium profundum and Streptococcus sanguinis
Faculty Mentor(s) & Lab Site(s)
Dr. Rakhi Rajan, University of Oklahoma (primary research site)
Dr. Vijay Somalinga, Southwestern Oklahoma State University (supplementary research site)
Award Amount: $5,000
Student Researcher
George Levi Captain, Oklahoma State University
Research Project Title
Soil Monitoring Through UAV-Assisted LoRa Underground Sensors
Faculty Mentor & Lab Site
Dr. John O'Hara, Oklahoma State University
Award Amount: $5,000
Student Researcher
Megan DeSpain, Oklahoma State University
Research Project Title
Energetically Feasible Carbon Capture: An Application of Contra-thermodynamic Photocatalysis
Faculty Mentor & Lab Site
Dr. Jimmie Weaver, Oklahoma State University
Award Amount: $5,000
Latest News
Wednesday, January 25, 2023
Wednesday, January 25, 2023
Wednesday, January 11, 2023
Upcoming Events
Wednesday, February 15, 2023 -

12:00pm

-

1:00pm
Friday, March 3, 2023 - 9:00am
Tuesday, March 28, 2023 -

8:00am

-

12:00pm