Research Day at the Capitol Recognizes Oklahoma's Top Undergrad Researchers
Last fall Dr. Allison Garrett, chancellor of the Oklahoma State System of Higher Education, invited the state's university presidents to nominate their institutions' top undergraduate student researchers to participate in the twenty-seventh annual Research Day at the Capitol.
This week, those 21 students, representing 15 colleges and universities, gathered on the State Capitol's second-floor rotunda to showcase the outstanding research being conducted on Oklahoma's campuses.
Members of the State Legislature and Capitol guests visited students' poster displays to learn more about the research projects, which covered important topics including ecological damage, nutrition, and cancer research.
Research posters and oral presentations were competitively judged by an independent panel. The panel selected the top seven researchers in three categories—one overall winner, three regional university winners, and three research-intensive institution winners. The students below received awards during a ceremony at the Capitol at the conclusion of the event.
For more information on this or other EPSCoR-sponsored programs, visit www.okepscor.org or email Gina Miller, outreach coordinator, at gmiller@okepscor.org. Access a photo album of the event via our Flickr account.
_____________________
2022 RESEARCH DAY AT THE CAPITOL AWARD WINNERS:
Overall Grand Prize – Camille M. Goerend
Institution: Southwestern Oklahoma State University
Hometown: Weatherford
Research Topic: Antibacterial Target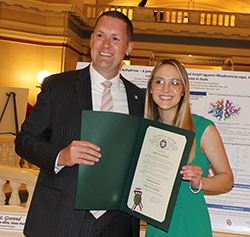 Pictured (L-R) Representative Anthony Moore and Camille M. Goerend
_____________________
First Place: Regional, Community, and Tribal College Category – Bryce Sanchez
Institution: Rogers State University
Hometown: Collinsville
Research Topic: Nicotine Effects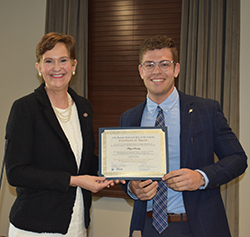 Pictured (L-R) Chancellor Allison Garrett and Bryce Sanchez
_____________________
First Place: Research-Intensive Institution Category – Allison P. Hussin
Institution: The University of Tulsa
Hometown: Bixby
Research Topic: 3-D Printed Electrochemistry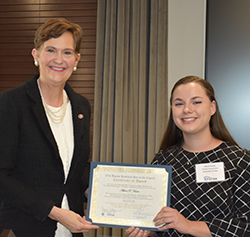 Pictured (L-R) Chancellor Allison Garrett and Allison P. Hussin
_____________________
Second Place: Regional, Community, and Tribal College Category – Hallum C. Ewbank
Institution: University of Central Oklahoma
Hometown: Edmond
Research Topic: Ecological Damage, Toxicology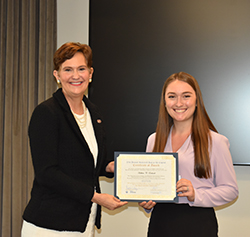 Pictured (L-R) Chancellor Allison Garrett and Hallum C. Ewbank
_____________________
Second Place: Research-Intensive Institution Category – Ann Marie E. Flusche
Institution: University of Tulsa
Hometown: Tulsa
Research Topic: Cancer Metabolism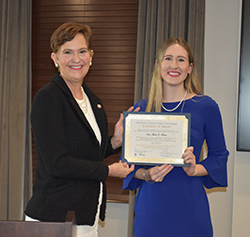 Pictured (L-R) Chancellor Allison Garrett and Ann Marie Flusche
_____________________
Third Place: Regional, University & Community College Category – Lydia Ostmo
Institution: Northeastern State University
Hometown: Tulsa
Research Topic: DNA Replication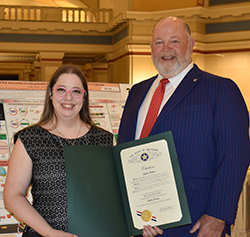 Pictured (L-R) Lydia Ostmo and Representative Bob Ed Culver
_____________________
Third Place: Research-Intensive Institution Category – Alex X. Arreola
Institution: Oklahoma State University
Hometown: Coweta
Research Topic: Discovering Fungi
Pictured (L-R) Alex Arreola and Dr. Kenneth Sewell, Vice President for Research, OSU
Latest News
Thursday, November 02, 2023
Thursday, November 02, 2023
Thursday, November 02, 2023
Upcoming Events
Monday, December 4, 2023 -

5:00am

-

5:00pm
Monday, December 4, 2023 - 8:00am
-
Thursday, December 7, 2023 - 5:00pm
Monday, December 4, 2023 -

12:00pm

-

1:00pm