Robotics Program Integrates Engineering and BioFuels
The KISS Institute's Botball Educational Robotics program engages more than 6,000 middle school and high school students a year in a team-oriented robotics competition. Thirty nine Oklahoma teams participated in the program last year.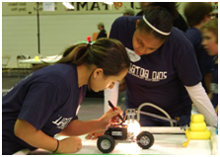 Students prepare to launch their team's robot during qualifying rounds at the 2010 Botball Regional Tournament in Norman this year. More than 6,000 students from around the world participate annually in the Botball Educational Robotics Competition.
Science, technology, engineering, math, critical thinking and writing skills are enhanced through the inquiry-based learning program that appeals to kids' hearts and minds.
Students learn the value of teamwork, as they design, program and document robots, with the goal of competing in regional and national Botball tournaments.
While devising a strategic plan for their robots, students are also required to research' understand and generate solutions to a global challenge. The 2009-2010 theme's premise was prophetic, with students challenged to neutralize oil slicks and rescue water fowl with their robots. The 2010-2011 Botball theme expands on the environmental and sustainability lessons learned last year, by exposing students to an alternative to the fossil fuel dilemma. Although the exact nature of the game theme is a protected secret until the 2010-2011 season is officially launched, Biofuels will play a significant role in the games, according to Steve Goodgame, KISS Institute executive director.
Two rural Oklahoma schools will participate in the 2010-2011 Botball experience, through an award from OK EPSCoR. The award will also provide the two EPSCoR teams with preseason, personalized training during ten two-hour weekly workshops held at the students' school sites. Teacher mentors will receive Botball and Biofuels training during a two-day activity training seminar, prior to the weekly student workshops.
This augmented instruction will broaden participants' understanding of robotics, STEM and bioenergy, which will lead to increased confidence and success during the upcoming competition.
The formal Botball season gets in full swing in January, when student teams begin designing and building their competition robots. Mentors provide guidance, but no hands-on assistance, during the seven-week construction period. Regional tournaments are held in the spring, with teams' robots battling head-to-head in fast- paced, non-destructive competitions. The season culminates in July with an international competition.
For more information on the program, visit www.botball.org or contact Steve Goodgame at 405.579.4609.
Latest News
Wednesday, January 25, 2023
Wednesday, January 25, 2023
Wednesday, January 11, 2023
Upcoming Events
Wednesday, February 15, 2023 -

12:00pm

-

1:00pm
Friday, March 3, 2023 - 9:00am
Tuesday, March 28, 2023 -

8:00am

-

12:00pm