State's Top Undergrad Researchers Present Work at Capitol and Receive Recognition
Twenty-two undergraduate student researchers, representing 16 Oklahoma colleges and universities, gathered at the State Capitol on March 26 for the twenty-fourth annual Research Day at the Capitol.
Students were hand-selected by their institutions to present scientific research posters during the prestigious event, which is designed to showcase the outstanding research being conducted on Oklahoma's campuses. (Access the list of presenters.)
Members of the State Legislature and Capitol guests visited students' poster displays to learn more about the research projects, which covered important topics such as water quality, cancer, and recidivism.
Research posters and oral presentations were competitively judged by an independent panel. The top seven researchers in three categories were selected—one overall winner, three regional university winners and three research-intensive institution winners. The students below received awards during a ceremony at the conclusion of the event.
For more information on this or other EPSCoR-sponsored programs, visit www.okepscor.org or email Gina Miller, outreach coordinator, at gmiller@okepscor.org. Access a photo album of the event via our Flickr account.
_____________________
2019 RESEARCH DAY AT THE CAPITOL AWARD WINNERS:
Overall Grand Prize – Matthew Baier
Institution: University of Oklahoma Health Sciences Center
Hometown: Edmond
Research Topic: Elevated Cerebrospinal Histamine Levels Following Traumatic Brain Injury in Rats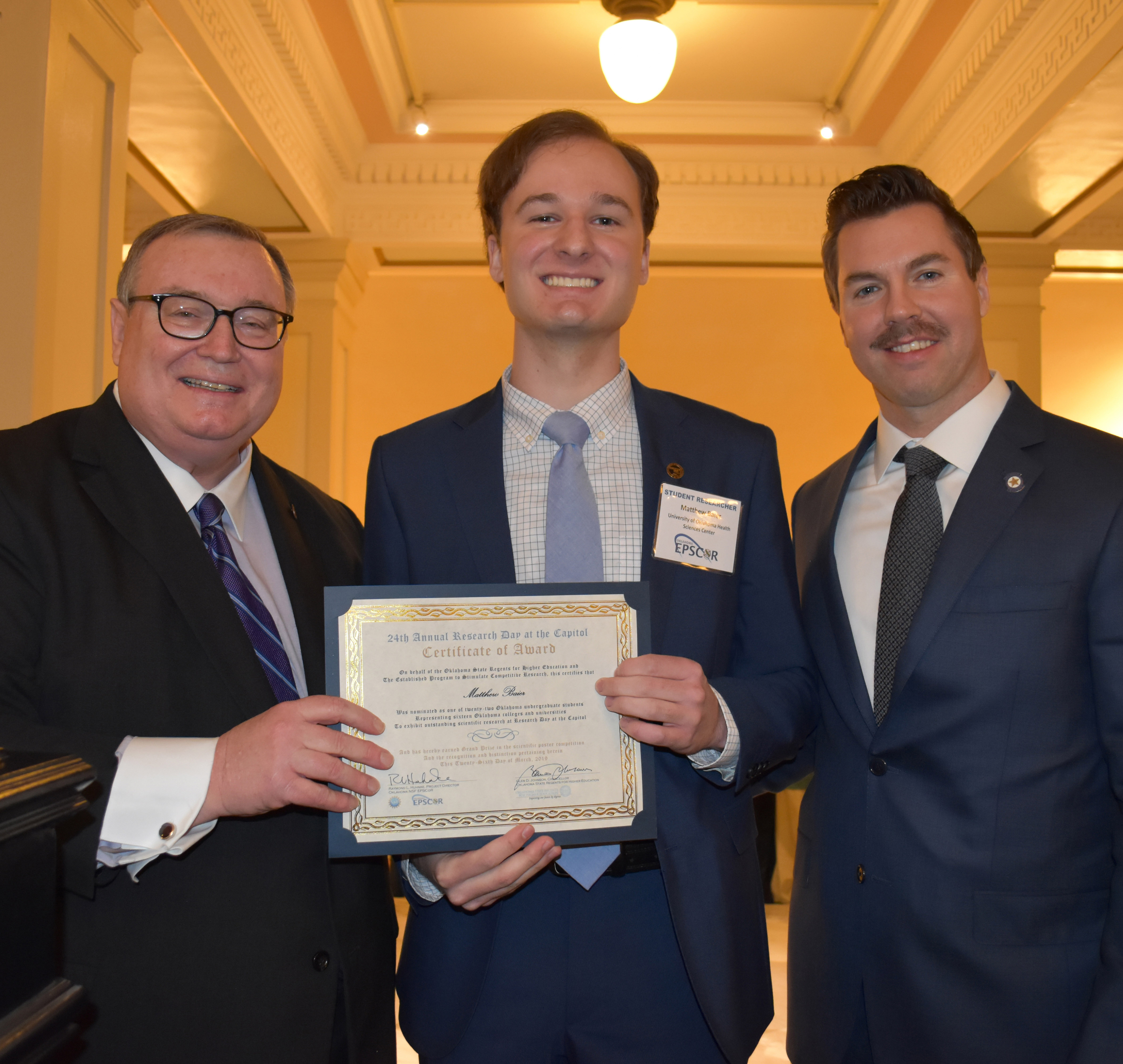 Pictured (L-R) Chancellor Glen D. Johnson, Matthew Baier, Senator Adam Pugh (Dist. 41)
_____________________
First Place, Regional University & Community College Category – Karissa Hodge
Institution: Northeastern State University
Hometown: Broken Arrow
Research Topic: Reducing Dietary Protein Inhibits Color Cancer Growth and Increases Chemotherapy Efficacy in Drosophila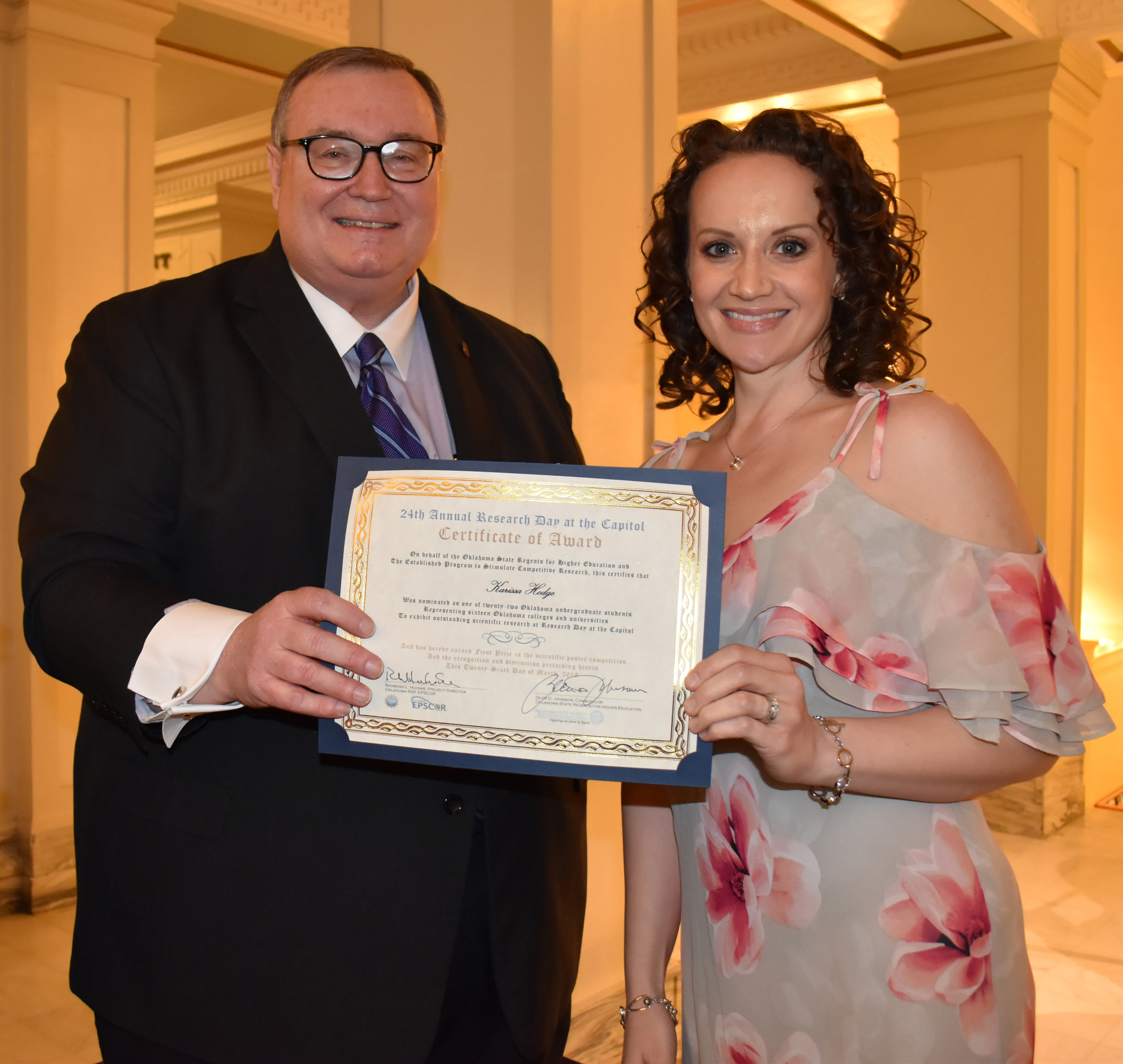 Pictured (L-R) Chancellor Glen D. Johnson, Karissa Hodge)
_____________________
First Place, Research-Intensive Institution Category – Sarah Gutierrez
Institution: The University of Tulsa
Hometown: Broken Arrow
Research Topic: Plasma Catalysis for Ammonia Synthesis: Understanding the Underlying Mechanism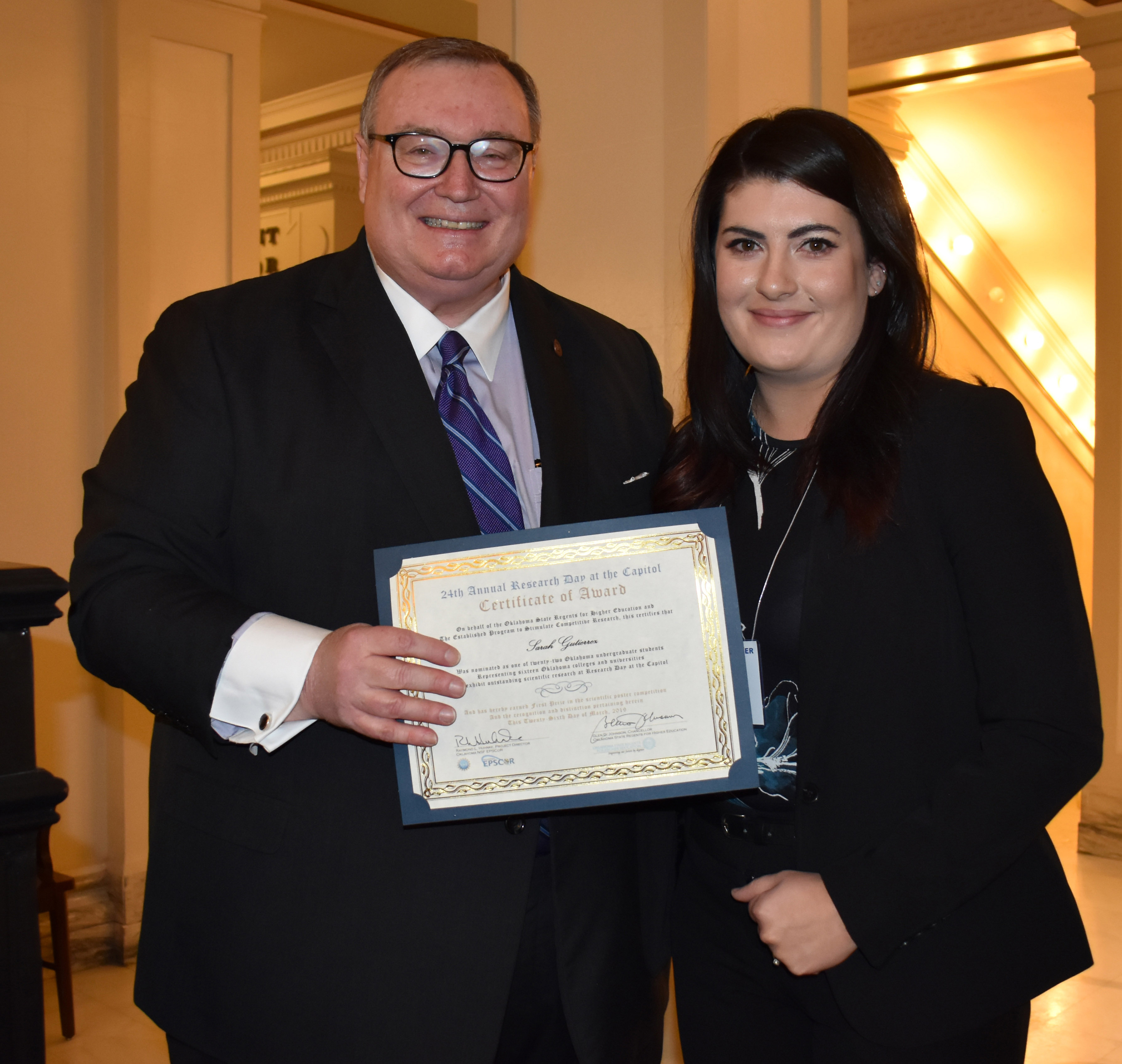 Pictured (L-R) Chancellor Glen D. Johnson, Sarah Gutierrez
_____________________
Second Place, Regional University & Community College Category – Anna Paraskevopoulos
Institution: Cameron University
Hometown: Lawton
Research Topic: Temperature Regulates Foraging Behavior and Net Energy Gain in the Red Harvester Ant, Pogonomyrmex Barbatus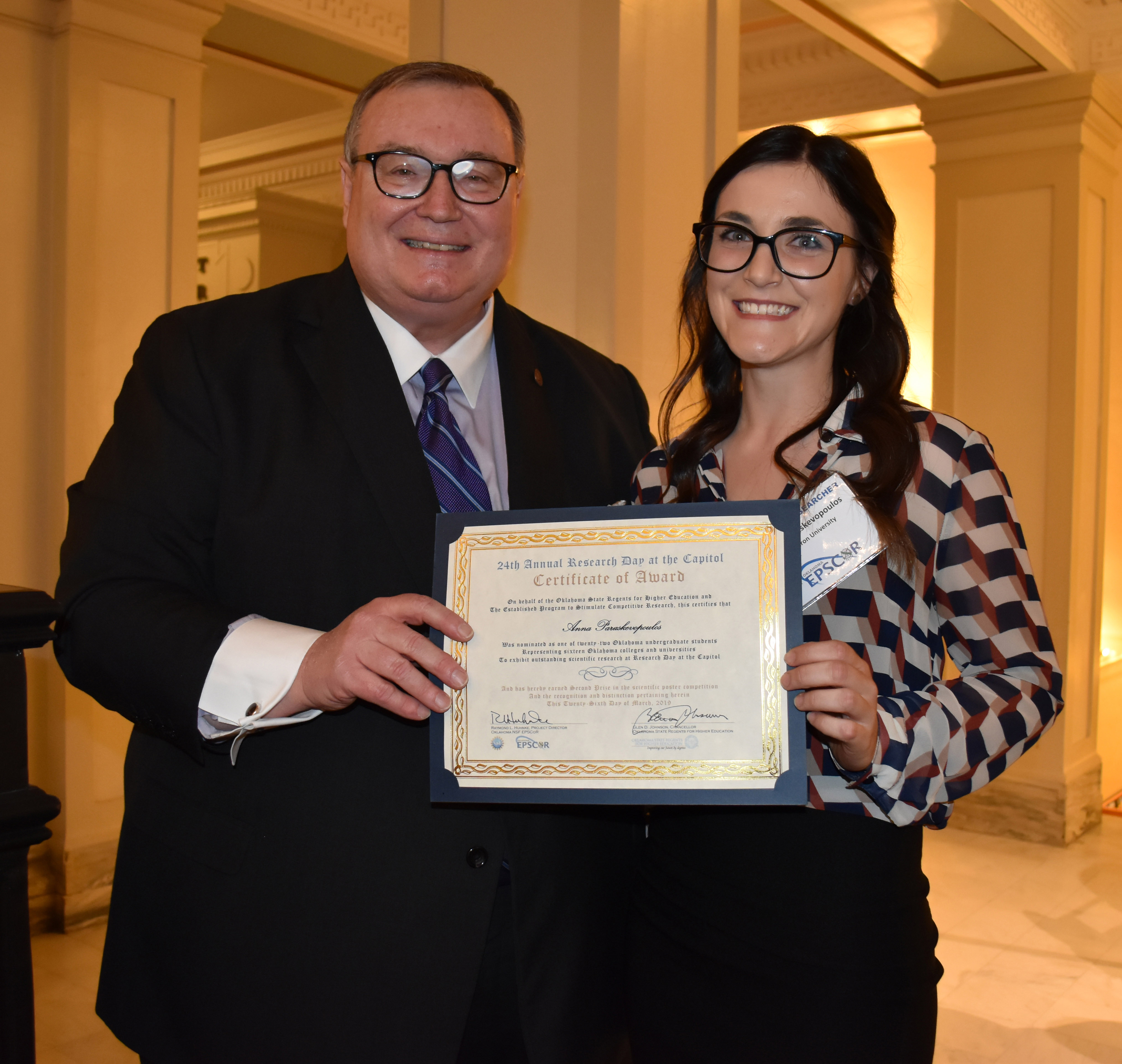 Pictured (L-R) Chancellor Glen D. Johnson, Anna Paraskevopoulos
_____________________
Second Place, Research-Intensive Institution Category – Marjorie Sheaff
Institution: The University of Tulsa
Hometown: Owasso
Research Topic: Improved Electrochemical Performance of Fused Filament Fabrication 3D Printed Electrodes Using Hydroxide Treatment Methods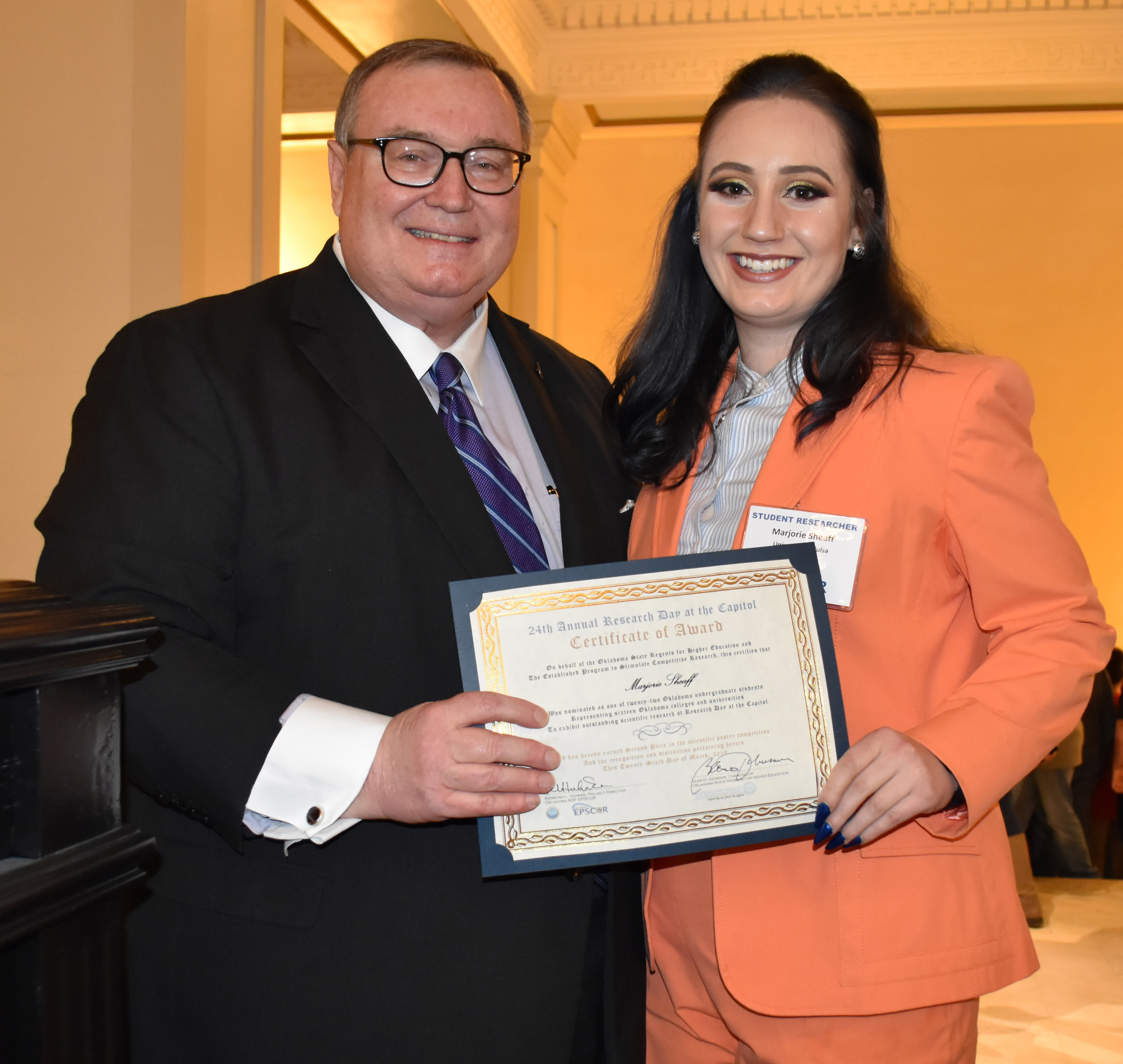 Pictured (L-R) Chancellor Glen D. Johnson, Marjorie Sheaff
_____________________
Third Place, Regional University & Community College Category – Tu Doan
Institution: University of Central Oklahoma
Hometown: Edmond
Research Topic: Glycated Chitosan Reduces Myofibroblast Phenotype in Anchored Collagen Lattices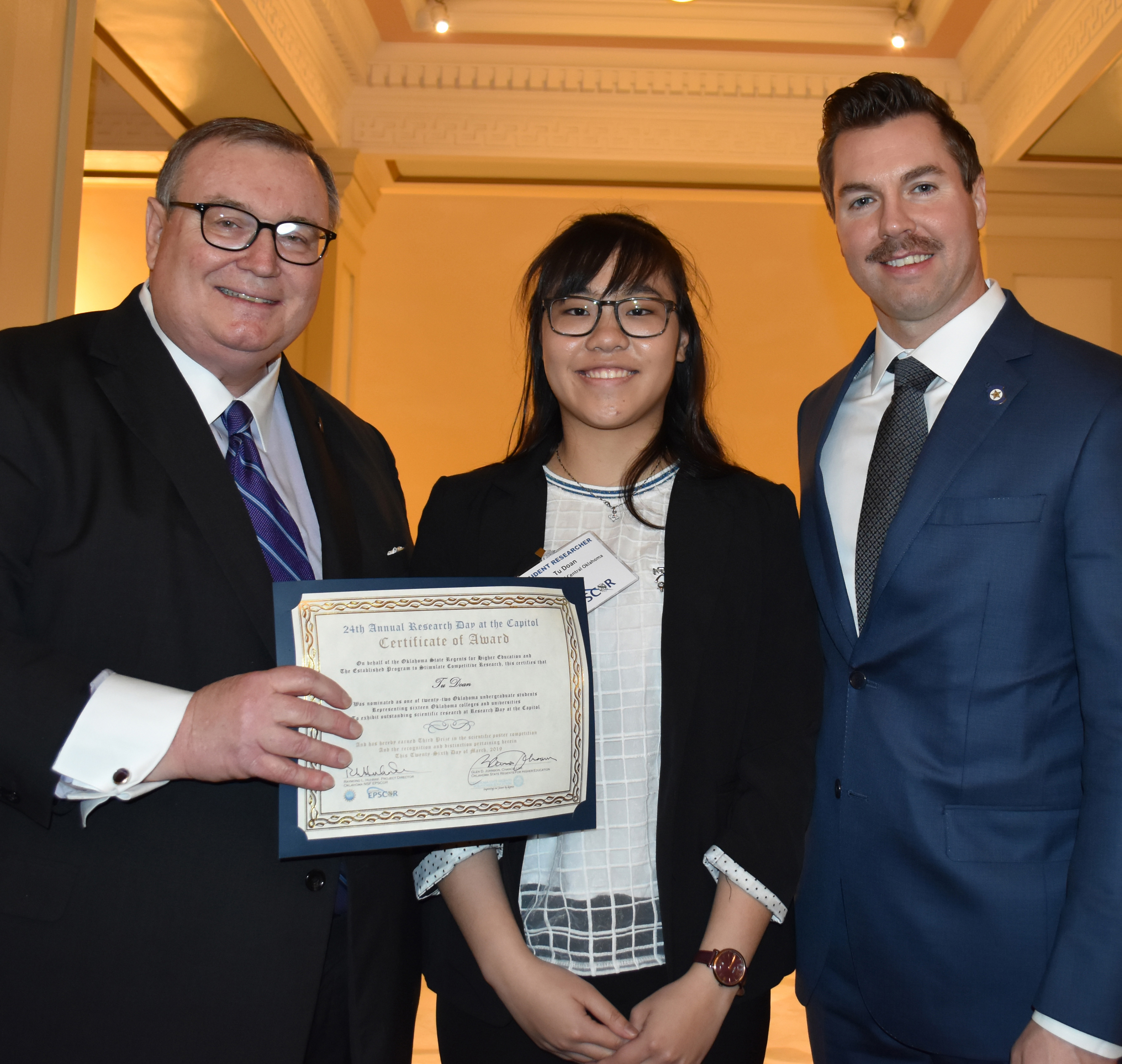 Pictured (L-R) Chancellor Glen D. Johnson, Tu Doan, Senator Adam Pugh (Dist. 41)
_____________________
Third Place, Research-Intensive Institution Category – Julia Tang
Institution: University of Oklahoma
Hometown: Edmond
Research Topic: Multimodal Characterization of Cognitive Function in Middle-Aged and Older Adults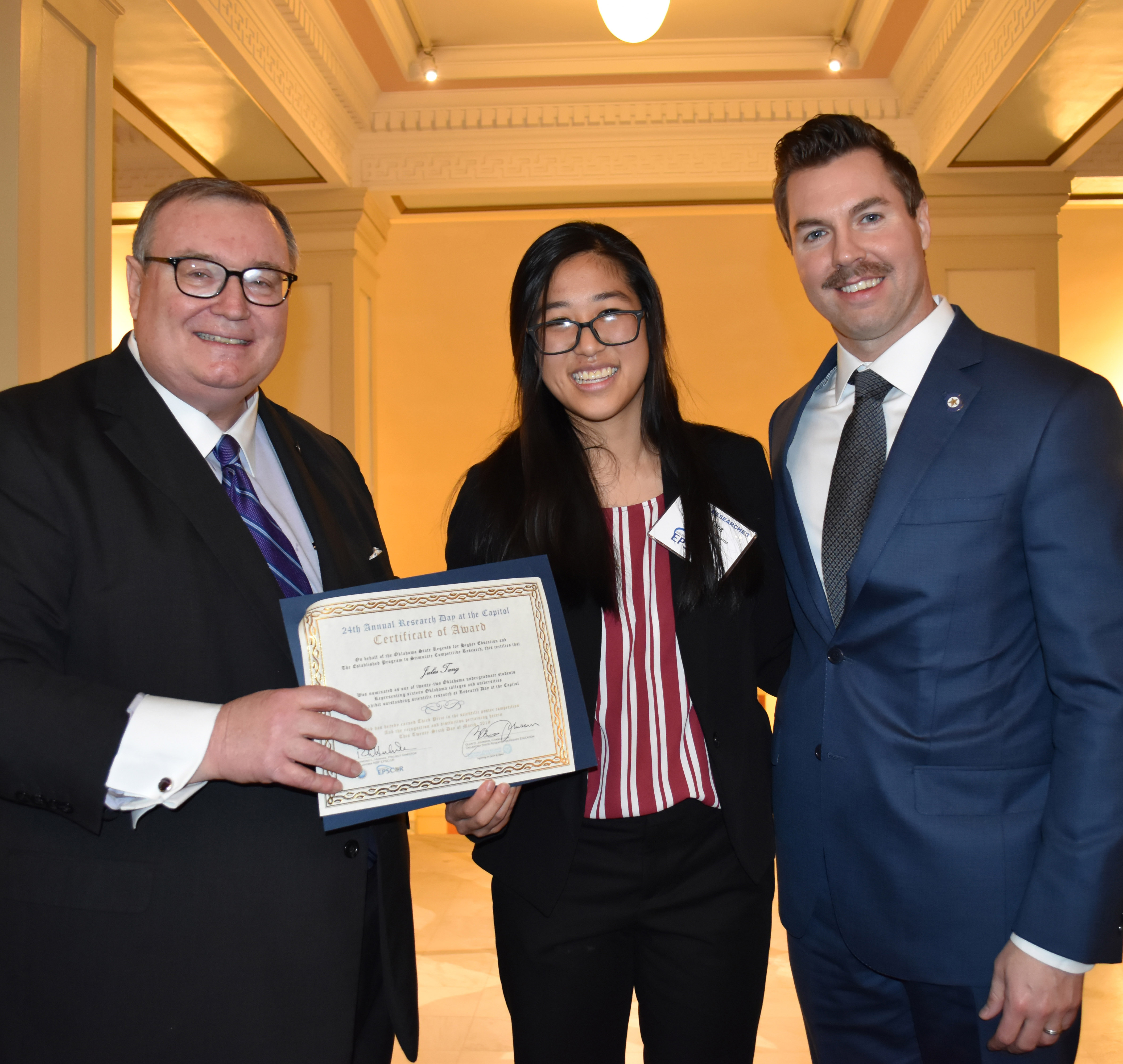 Pictured (L-R) Chancellor Glen D. Johnson, Julia Tang, Senator Adam Pugh (Dist. 41)
Latest News
Thursday, November 02, 2023
Thursday, November 02, 2023
Thursday, November 02, 2023
Upcoming Events
Monday, December 4, 2023 -

5:00am

-

5:00pm
Monday, December 4, 2023 - 8:00am
-
Thursday, December 7, 2023 - 5:00pm
Monday, December 4, 2023 -

12:00pm

-

1:00pm