Authentic Research Experiences for Teachers
K-12 Teacher Outreach (Archived Project)
** Archived Project **
(This initiative is no longer active in our portfolio.)
Oklahoma NSF EPSCoR climate variability researchers and K20 pedagogy specialists will hold five, five-day summer research experiences for K12 teachers annually from 2014 through 2017. Teachers will conduct hands-on field research and analyze obser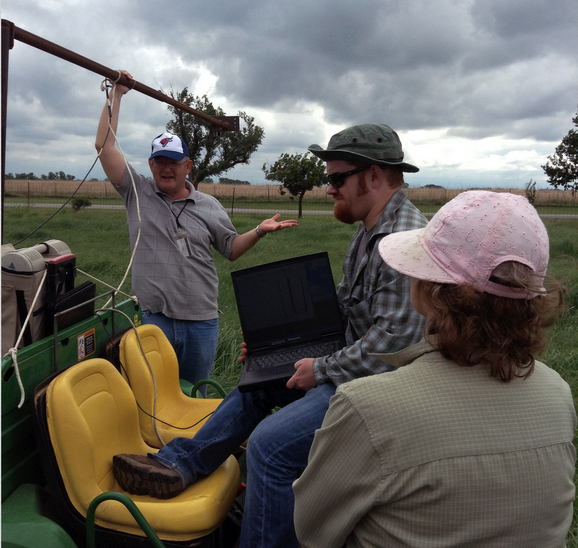 vatory data with support from University of Oklahoma, Oklahoma State University, The University of Tulsa and Samuel Roberts Noble Foundation researchers. The workshops will help teachers translate research into classroom lessons that will be shared virtually across Oklahoma. By the end of the project, 3,000 K-12 students will be impacted.
This authentic research experience for teachers (ARET) will provide opportunities for educators to experience an instructional strategy while they study, experiment with, and receive helpful advice on environmental science content; collaborate with professional peers both within and outside of their schools; have access to external experts (i.e., Oklahoma EPSCoR research scientists); and have influence on both the substance and the process of their professional development.
Through this program, teachers gain the essentials of scientific inquiry, including confidence in their ability to carry through a rationally conceived research project from beginning to end, when provided authentic research experiences and guidance. In addition to confidence in research ability, teachers' mastery of the scientific content will increase through the research experience. As an added bonus, mentor research scientists, along with participating post-docs and graduate students, will improve their teaching and communication skills through authentic pedagogy that encourages critical reflection and knowledge construction through social interaction.
Visit the Summer 2014 Summer Research Experience for Teachers website.
For more information on how you may participate in an upcoming session, email gmiller@okepscor.org.
Pictured (above): Teachers in the summer 2014 ARET program learn how IR sensors determine a baseline for groundcover being tested.
Latest News
Wednesday, January 25, 2023
Wednesday, January 25, 2023
Wednesday, January 11, 2023
Upcoming Events
Wednesday, February 15, 2023 -

12:00pm

-

1:00pm
Friday, March 3, 2023 - 9:00am
Tuesday, March 28, 2023 -

8:00am

-

12:00pm