Summer Research Experiences for Regional and Tribal College Students
College Student Outreach (Archived Project)
** Archived Project **
(This initiative is no longer active in our portfolio.)
Oklahoma NSF EPSCoR is providing funding for a new summer STEM research experience program that will run parallel at regional and Tribal colleges in the state.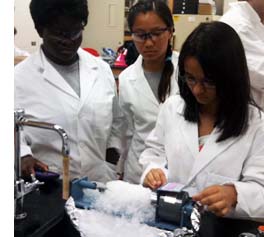 Student participants will learn important basic research skills that will allow them to participate in lab and field research through the hands-on program. Students will explore microbial populations in soil and water samples from area sites and compare findings with their counterparts at the partner institution.
An important component of this project includes site visits to labs and graduate departments at major research institutions in the state, so students may become familiar with the more expansive campuses and, by default, more open to continuing their science educations.
Students will earn course credit when allowable.
The program will be held at Southeastern Oklahoma State University in Durant and the College of Muscogee Nation in Okmulgee in 2013 and 2014. Cameron University and Comanche Nation College are scheduled to collaboratively host the program in 2015.
For more information, contact Gina Miller, outreach coordinator, at gmiller@okepscor.org.
Latest News
Wednesday, January 25, 2023
Wednesday, January 25, 2023
Wednesday, January 11, 2023
Upcoming Events
Wednesday, February 15, 2023 -

12:00pm

-

1:00pm
Friday, March 3, 2023 - 9:00am
Tuesday, March 28, 2023 -

8:00am

-

12:00pm