Tribal College Outreach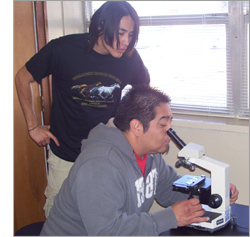 OK NSF EPSCoR places special emphasis on the goal of broadening participation of Native American students in STEM fields. Native American students' success is promoted through culturally attuned teaching methods and access to technology. Through these programs, students are overcoming challenges that may prohibit them from participating in STEM careers.
EPSCoR funding established the first science course at College of the Muscogee Nation (CMN) in Okmulgee. Since then, RII funding has continued to support CMN's growth through the addition of STEM instructors, as well as equipment, supplies and programming designed to increase student retention and graduation rates.
To find out how OK EPSCoR may help your institution increase Native American student participation in STEM disciplines, contact Gina Miller, outreach coordinator, at 405.744.7645 or email gmiller@okepscor.org.
Latest News
Thursday, November 02, 2023
Thursday, November 02, 2023
Thursday, November 02, 2023
Upcoming Events
Monday, December 4, 2023 -

5:00am

-

5:00pm
Monday, December 4, 2023 - 8:00am
-
Thursday, December 7, 2023 - 5:00pm
Monday, December 4, 2023 -

12:00pm

-

1:00pm